Our Long Beach Chapter's Ocean Friendly Gardens team hosted a hands-on workshop to kick off the new year! We removed a patch of dried-out lawn and added a rain garden full of native plants to a home in California Heights, with a dry creek feature to slow stormwater down the slope of the yard. The end result was some beautiful landscaping and a crew of attendees excited to make a difference in their own green spaces!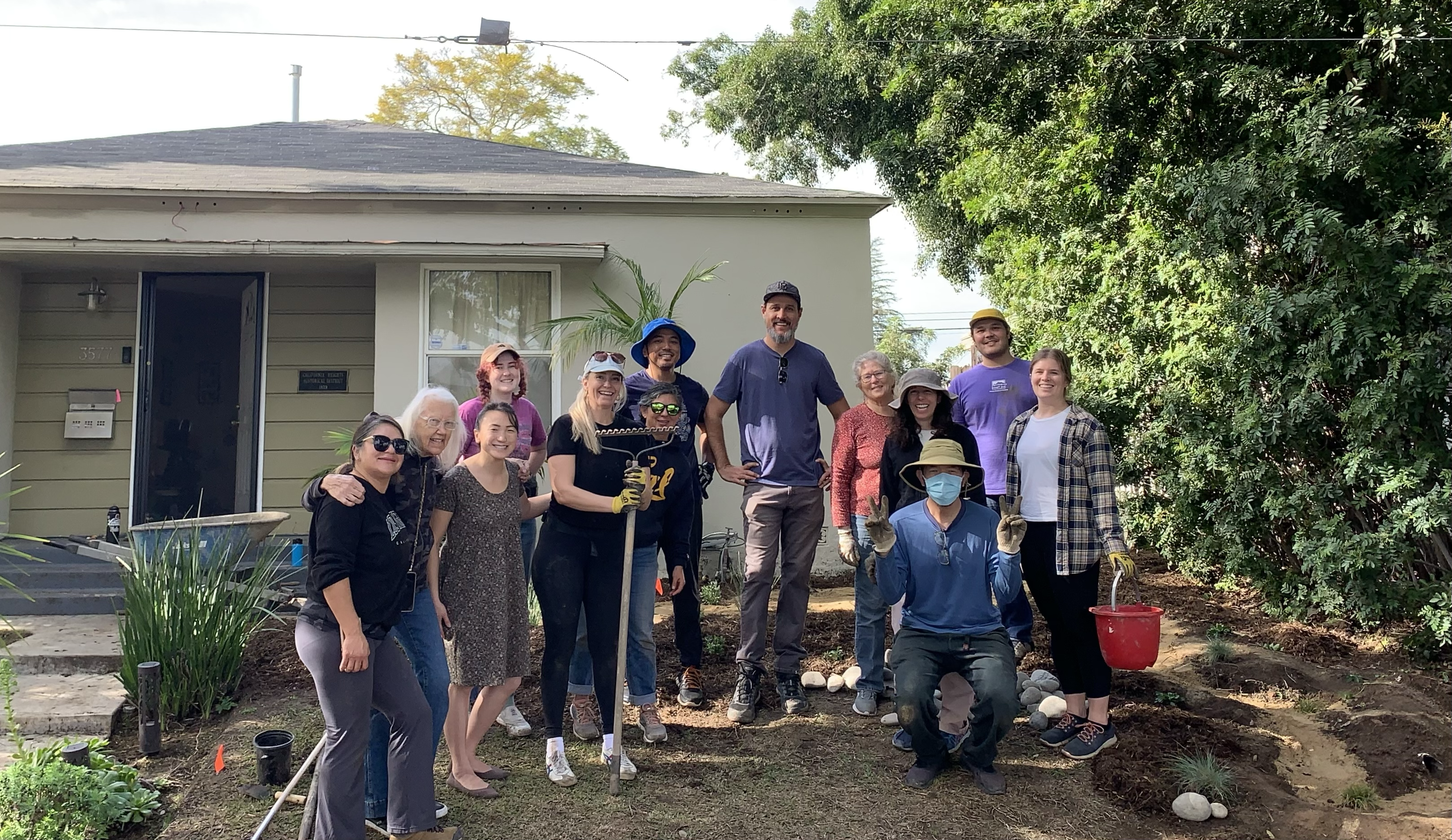 The house had some issues with drainage in the backyard, and a pipe had been routed from the backyard to the front to drain. Unfortunately, this resulted in water spilling out to the sidewalk, carrying dirt and grime with it.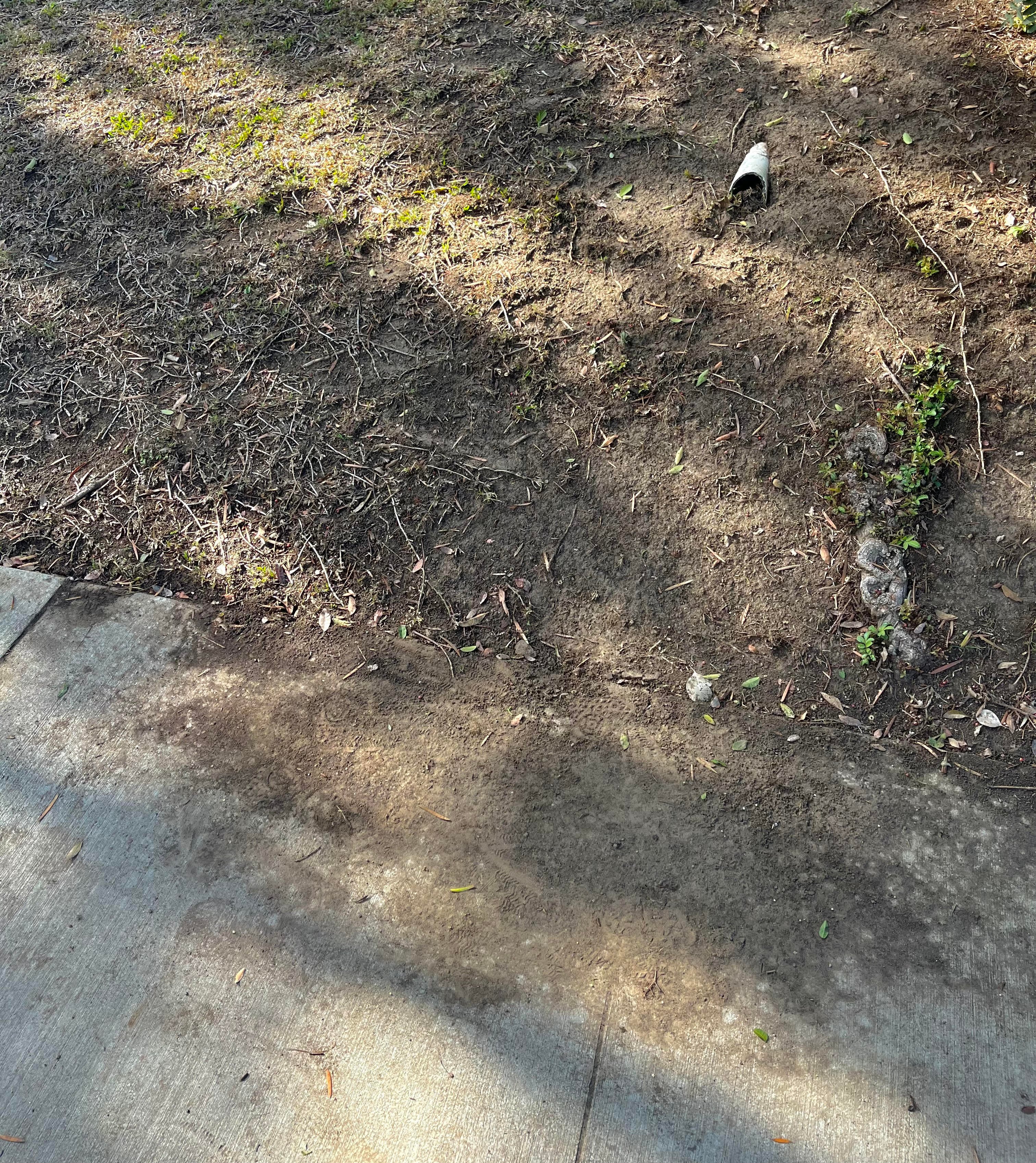 Before beginning our project, we called Dig Alert to the site to check for underground utilities. Luckily no important pipes or wires were found, but we still dug cautiously in case of sprinklers and other underground features.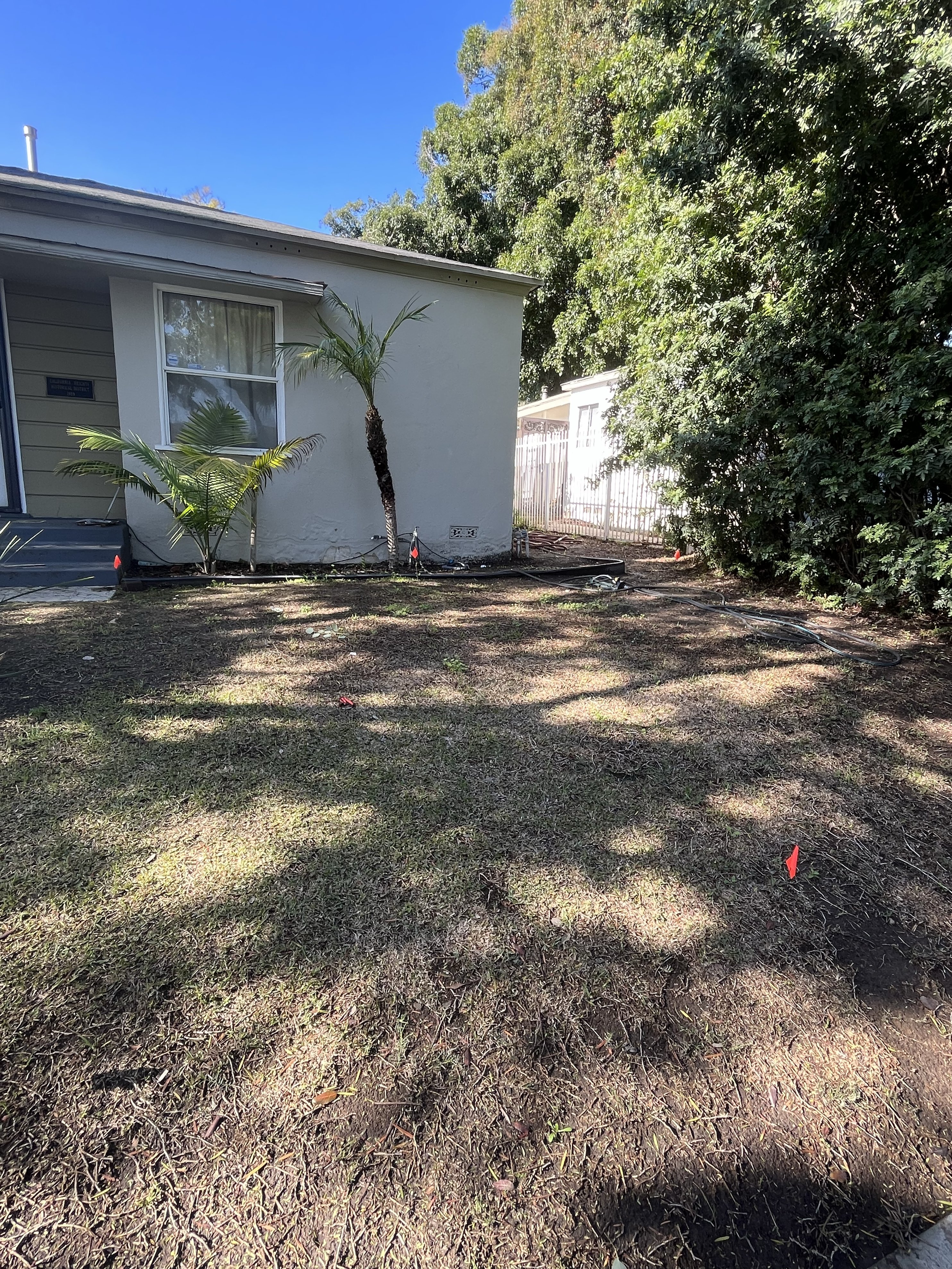 The yard was built on an incline, so we focused on the upper, flatter area for planting. We started by digging out the grass and other old roots to prepare our project area. We worked to slope the earth away from the house, creating a low point just before the yard sloped down. The dirt removed was used to make a berm at the edge of the hill.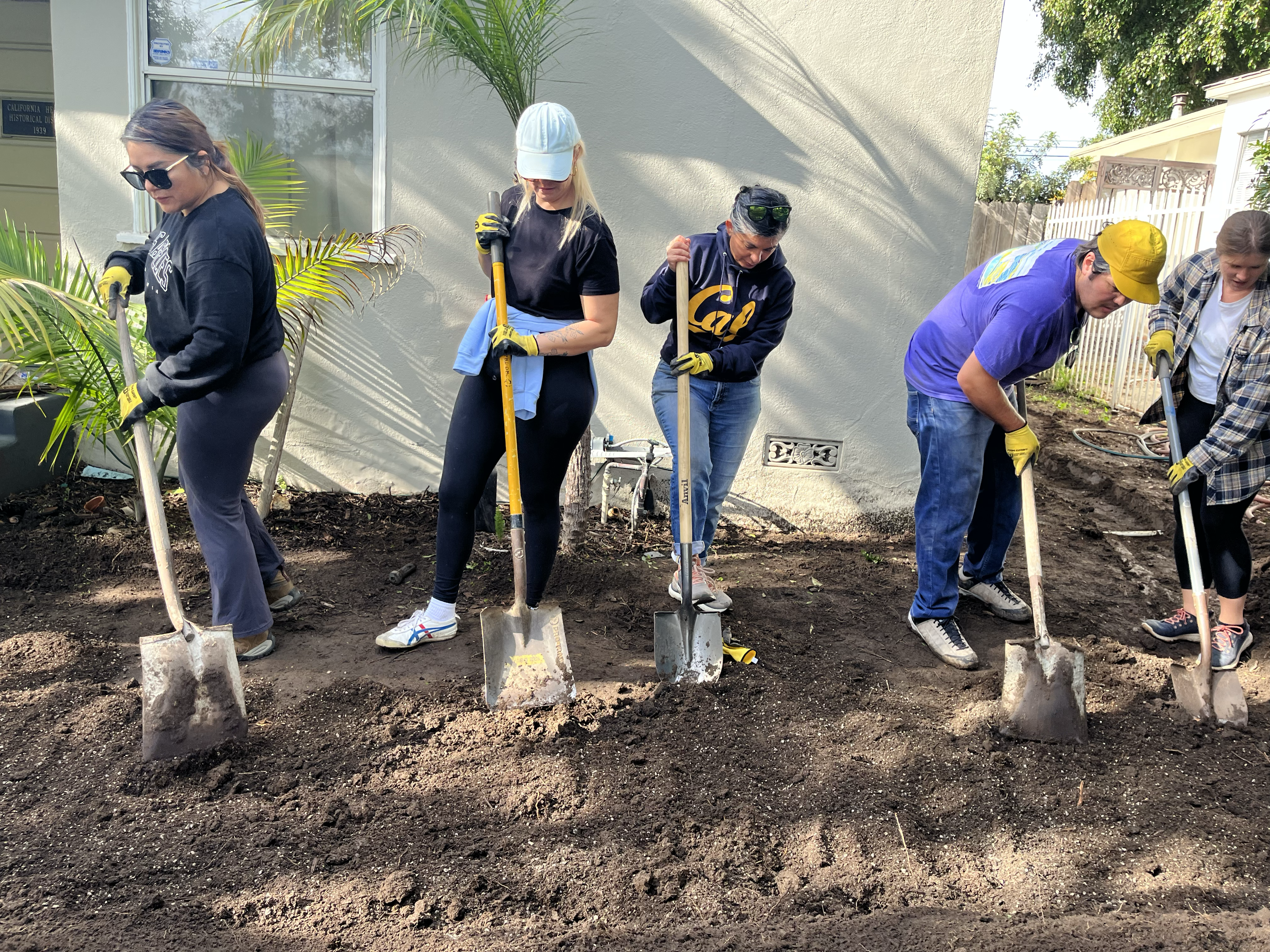 We added bags of cactus mix to improve drainage, and began adding plants. We picked native plants that can tolerate both drought and temporary flooding (or slow draining soils). This included Juncus patens "Will Flemings" , Sisyrinchium bellum (Blue Eyed Grass), Carex tumulicola (sedge), Achillea millefolium (Yarrow), and Anemopsis californica (Yerba Mansa).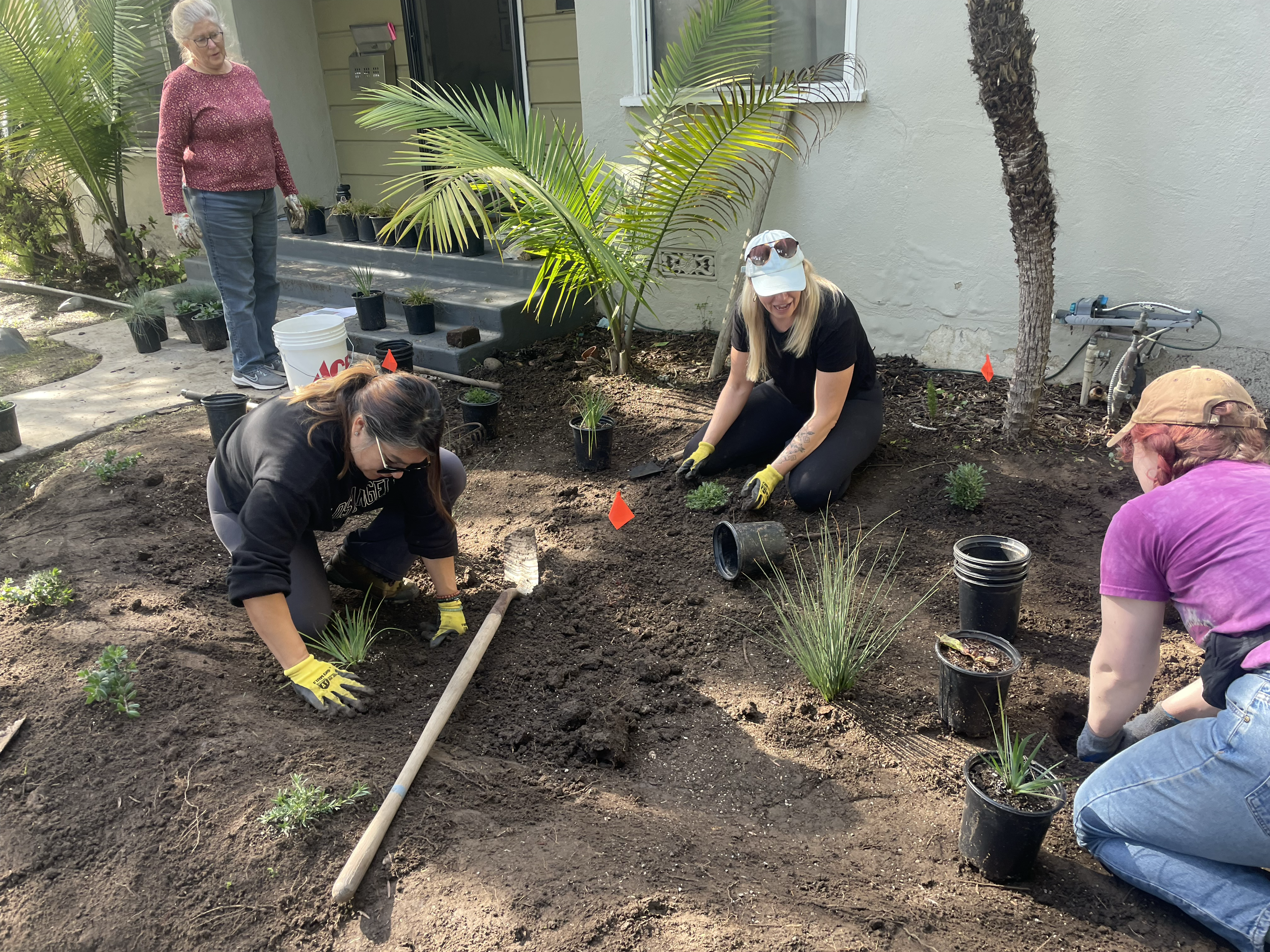 We chose cascading, low growing plants for the edge of the incline, including a buckwheat variety called Eriogonum fasciculatum 'Warriner Lytle' and a manzanita variety called Arctostaphylos edmundsii 'Carmel Sur'. These should spread down the incline as they grow, preventing erosion and adding greenery to the side.
We also incorporated a few sages (Salvia clevelandii 'Winifred Gilman') and pine muhly grasses (Muhlenbergia dubia) along the side of the house. The pine muhly looks like deer grass (Muhlenbergia rigens) but only grows to about half the size, making it a good option for smaller spaces. Sages are always great pollinator magnets, attracting bees and hummingbirds with their beautiful and fragrant flowers.
The area beneath the drain pipe was dug out to catch rainwater, and we linked the overflow at the top of the garden to the drain pipe area with a natural looking dry creek. After all of the plants were in the ground, we added 1-2 inches of sand to the low points of the contours, followed by pebbles and larger decorative rocks. We spread mulch to all of the planted areas outside of the pebbles to retain moisture during the summer and improve the soil health over time.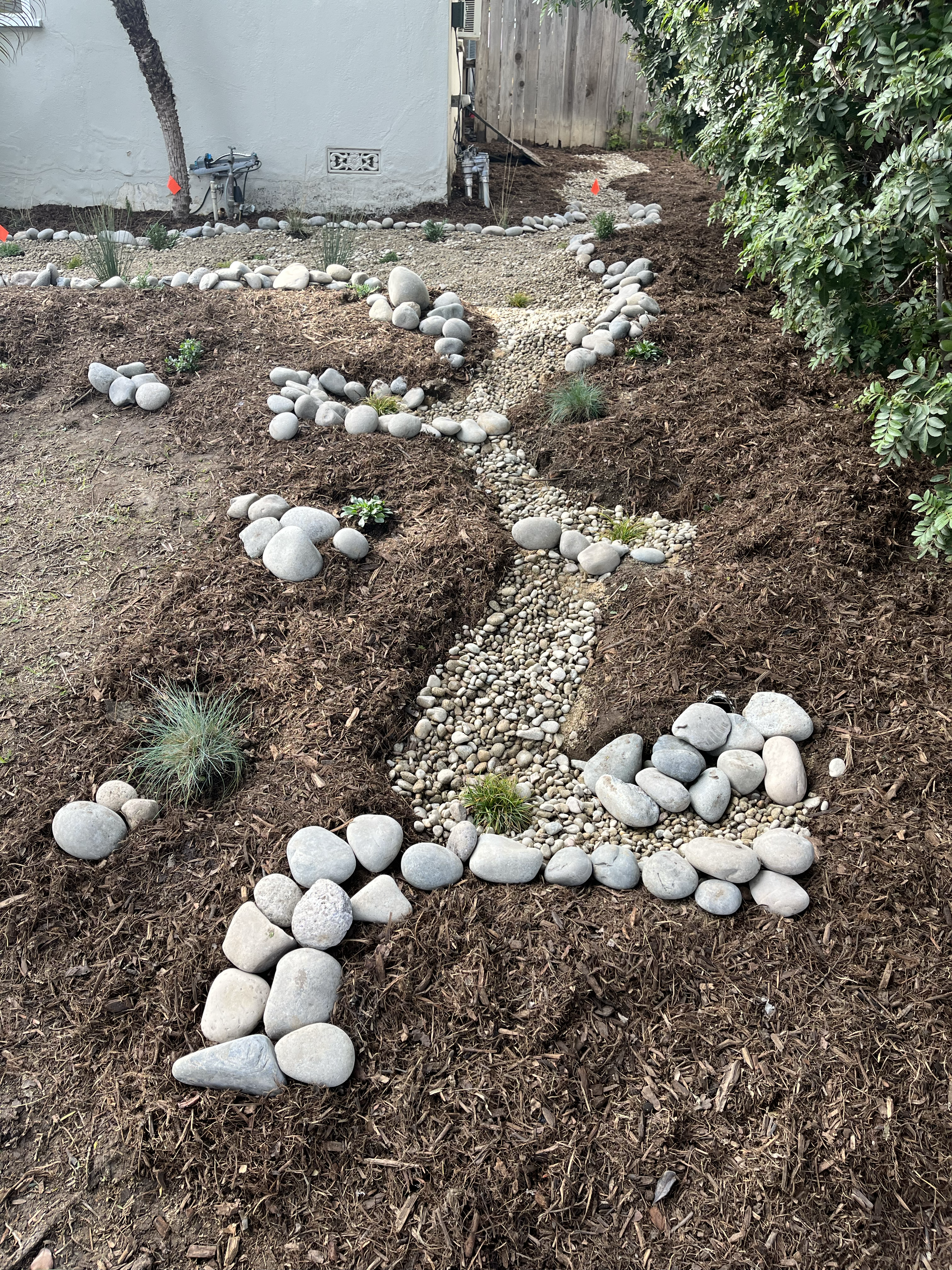 A huge thank you to our amazing volunteers who made this transformation possible! Stay tuned for our next workshop in February!
Interested in making your own yard more Ocean Friendly? Get started & track your impact with the Dashboard.Earth app! Take action to "Swap in Native Plants" and be entered to win a Surfrider membership & prize pack! Build climate resilience in your community and find local resources and opportunities to make a difference. Download now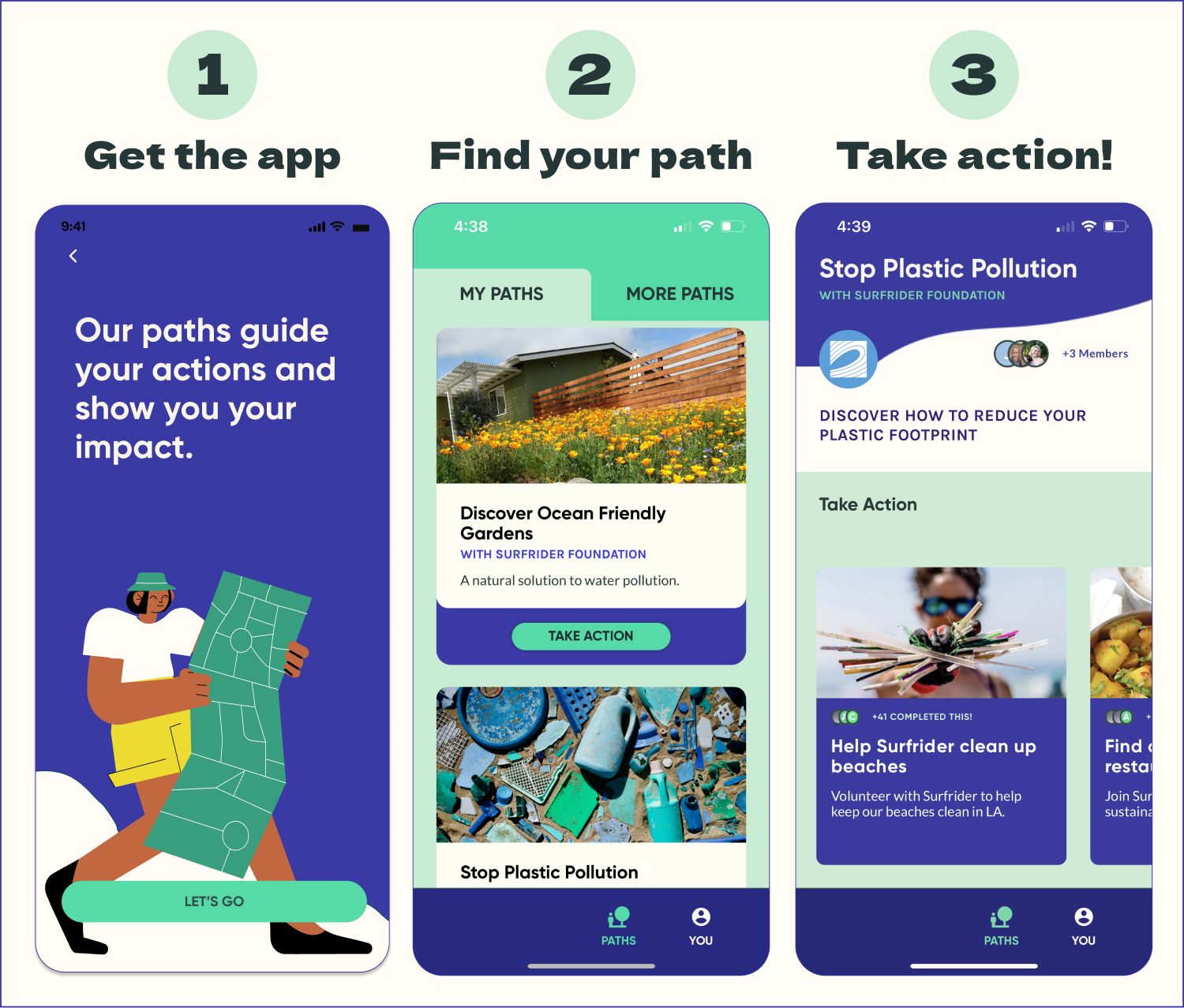 Check out the plant list and project template for this workshop here