We had a great time hosting our first Ocean Friendly Gardens tour in Long Beach! We visited four gardens that highlighted different stormwater capture strategies and landscaping styles designed by our Local Program leader Kai Craig. He gave our tour group expert insight into how these yards were shaped to hold rainfall and prevent polluting runoff.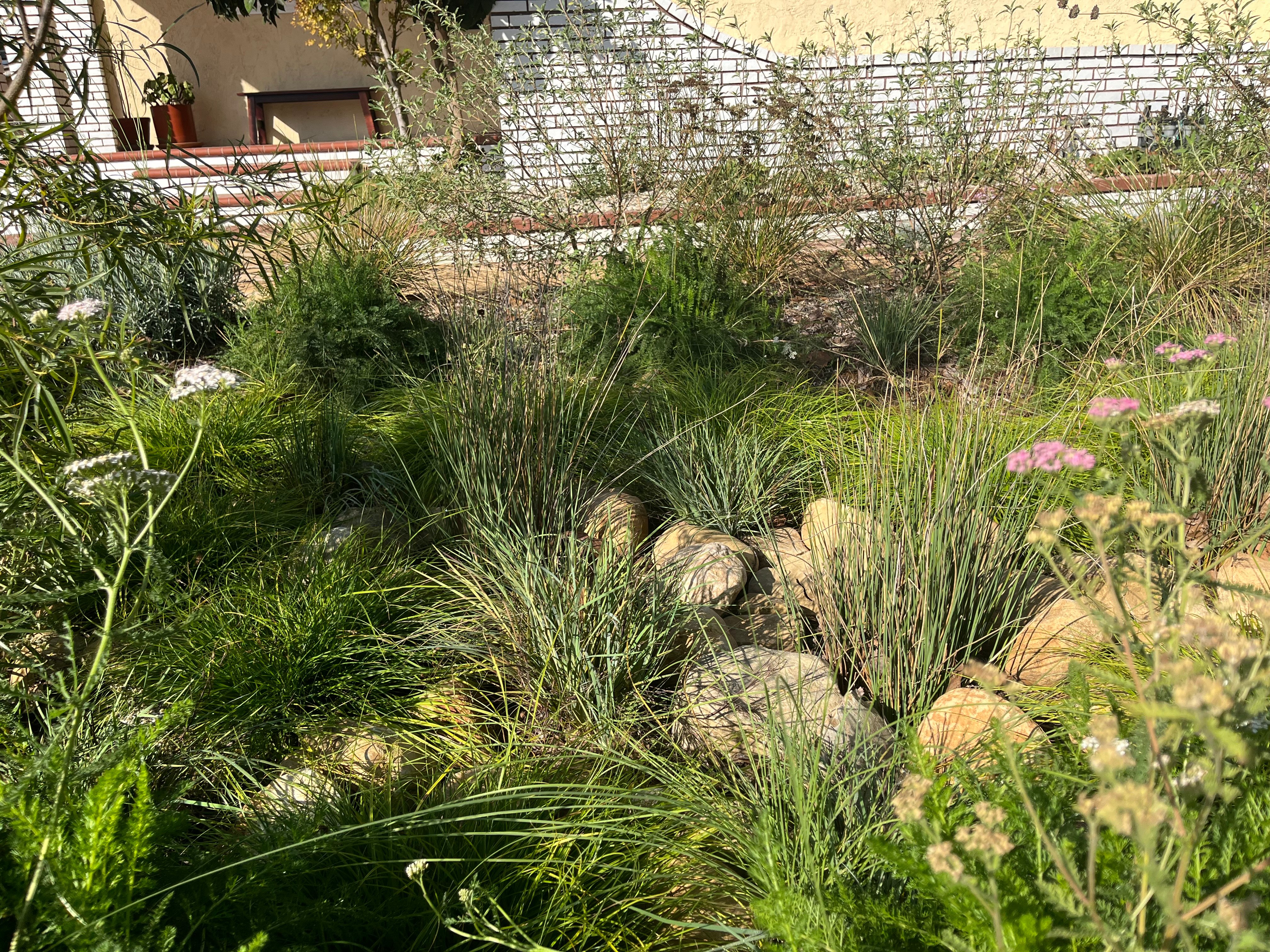 The first garden we visited featured a rain garden, a berm, and lots of native plants! Some of our favorite native plants in the rain garden were yarrow, blue-eyed grass, and native sedges. The house had no gutters, so rain that falls off of the roof is directed into a planter that drains into the rain garden. This garden also features permeable pathways with flagstone and decomposed granite.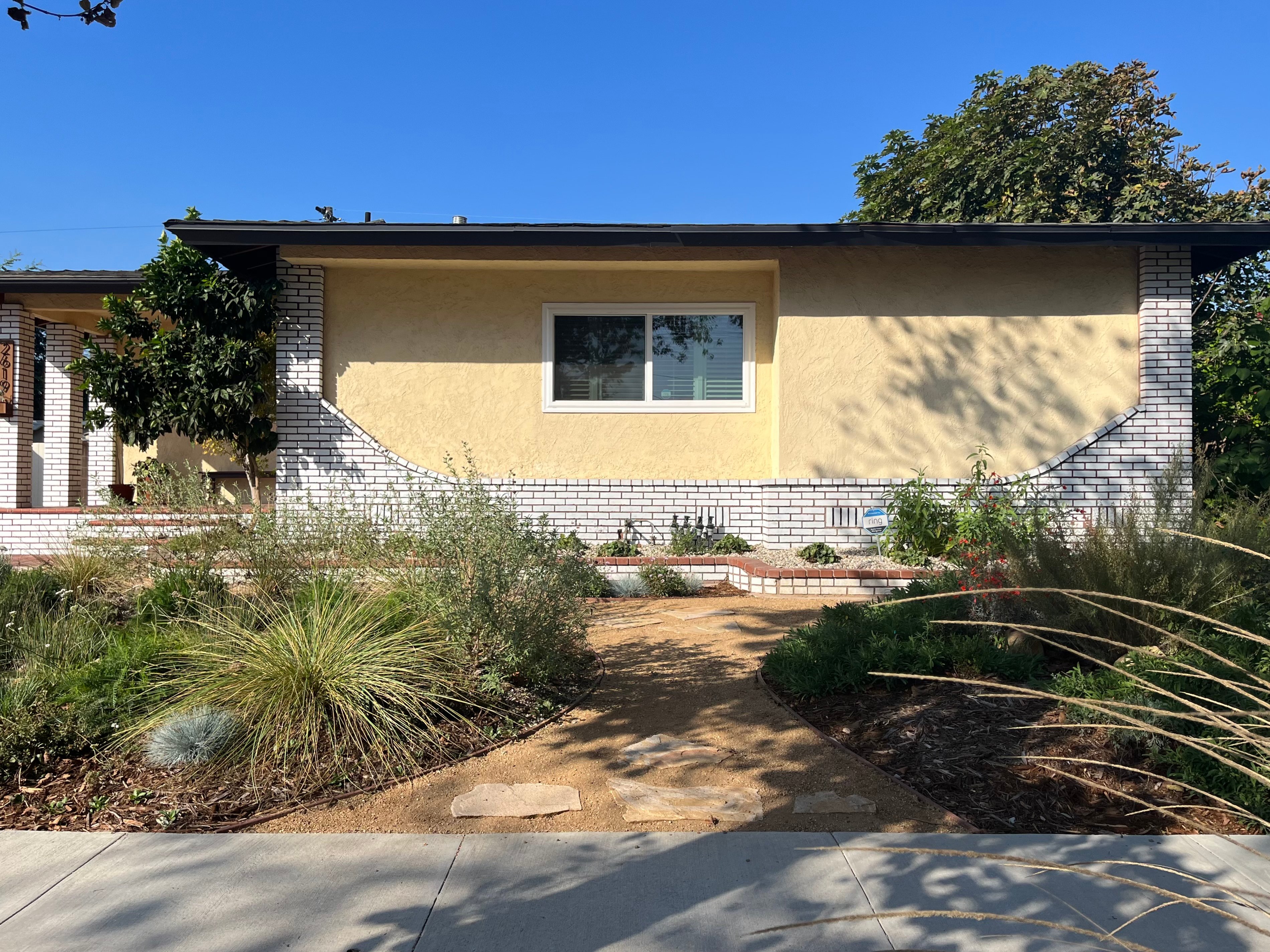 The next yard we saw featured recycled concrete pavers and a downspout directed into a vegetated swale. Creating a rain garden from a downspout is a great option if your house has gutters. This garden included a desert willow tree, a native mallow, and California lilacs.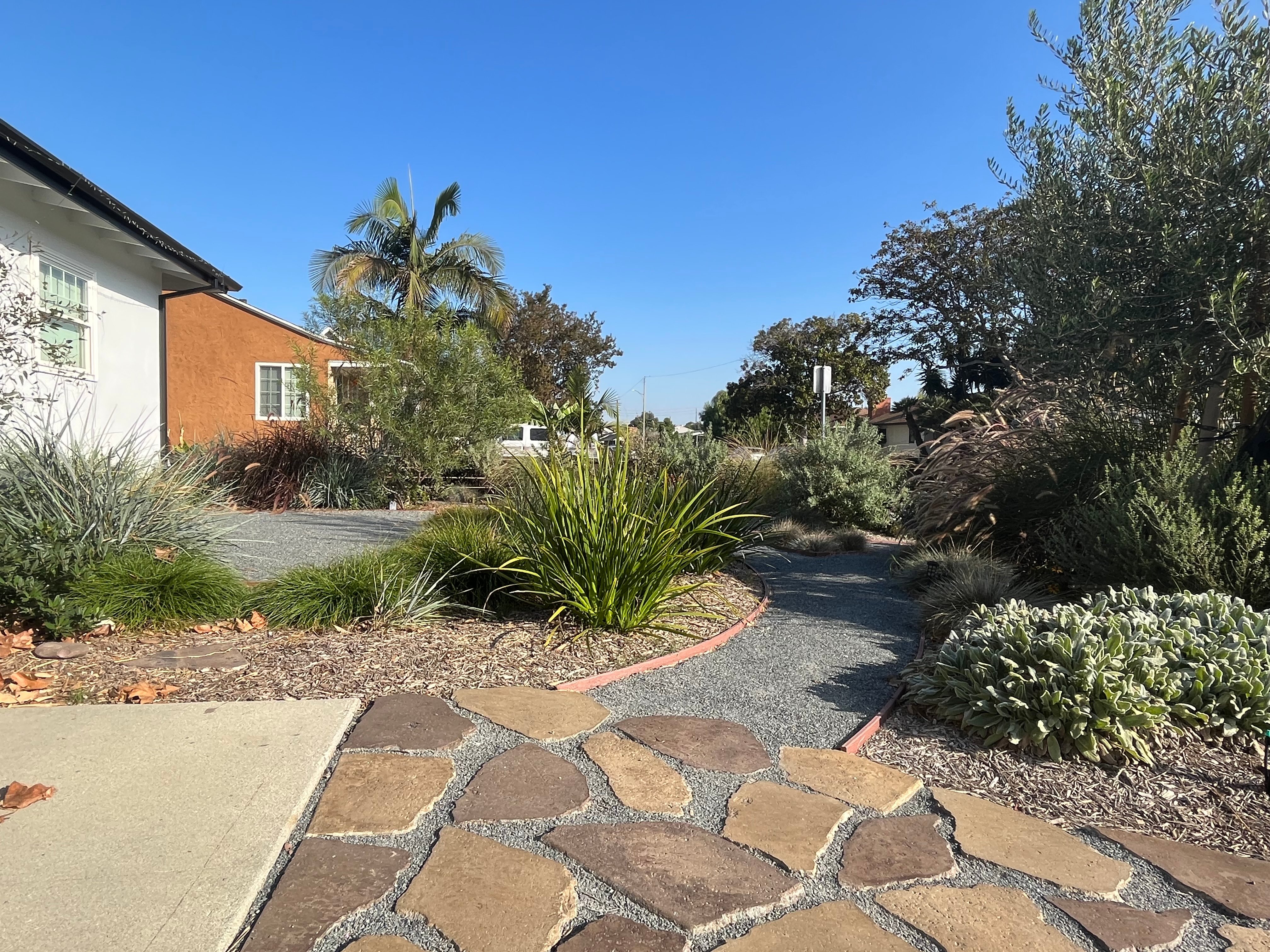 Another yard we toured demonstrated how retaining walls can be used to slow the flow of water as it runs downhill. This garden has been established for a while, and many of the large sages, buckwheats, and wild rye have filled in nicely. The homeowner told us that they receive many compliments on their garden and did not have to water during the outdoor watering restriction period over the summer.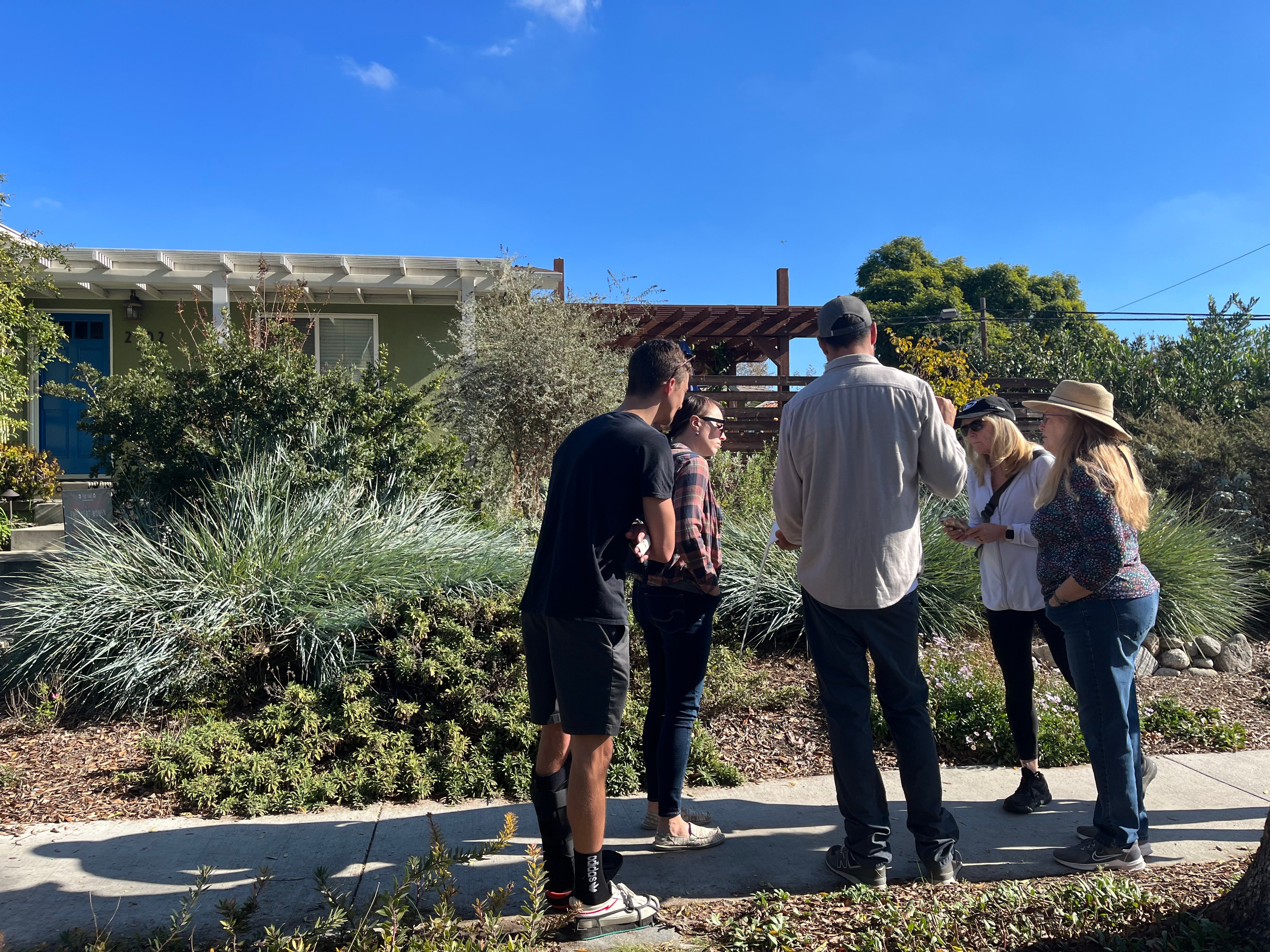 The last yard we viewed featured an alternative lawn with California native sedges and creeping red fescue. This area of the yard was previously a concrete patio, which would flood up to the house when it rained! To solve this problem, the concrete was removed and recycled into the retaining wall seen in the back of the picture. The area was dug out to create a retention basin, with the excess soil used to fill in the retaining wall. An awesome example of functional, sustainable, Ocean Friendly landscaping!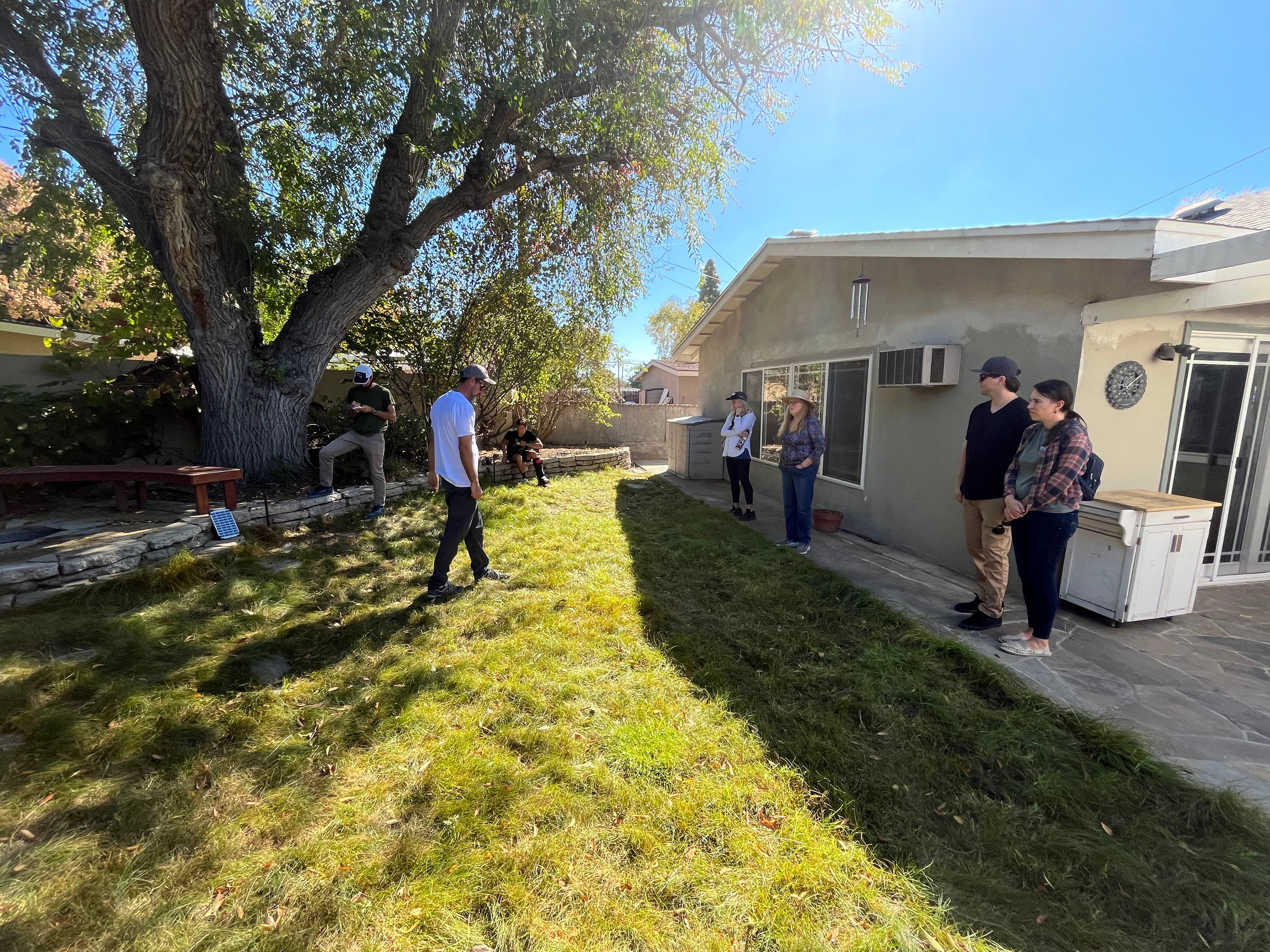 To learn more about the native plants used in these gardens, check out our curated Long Beach plant list. To hear about more events like this one, follow us on instagram @lbsurfrider and sign up for our newsletter!

For questions about the Long Beach OFG program, email ofg@longbeach.surfrider.org