Spring is in full bloom in Long Beach, especially at the VA Patient Garden! Tucked into the back corner of the Long Beach Veterans Affairs Hospital, which serves the health care needs of more than 50,000 veterans in Long Beach, the VA Patient Garden is a hidden gem. The 2-acre garden serves veterans staying long term at the hospital, healthcare workers, and veterans returning to work through the VA's Compensated Work Therapy Program. The garden is used as a meeting site for a variety of therapy groups at the hospital, and has areas accessible to people with mobility-aiding devices such as wheelchairs and walkers.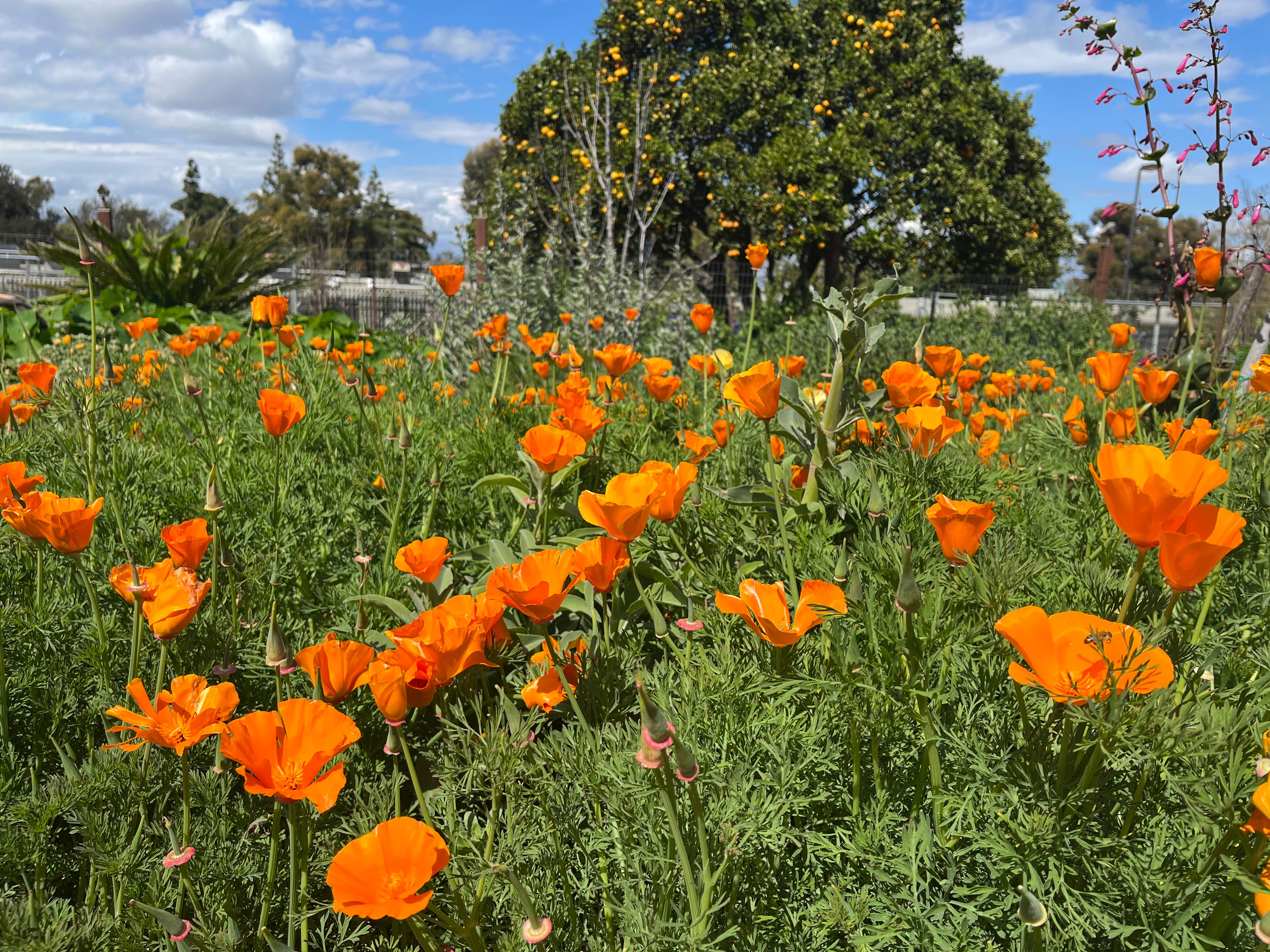 A volunteer at the garden, Kathy Davis, reached out to us at the Long Beach chapter after seeing a presentation about Ocean Friendly Gardens. She already had been helping to make ocean-friendly changes around the garden by planting native and climate-appropriate plants, installing a dry creek under a downspout, and removing weeds without using herbicides. Kathy asked if we could help with rainwater harvesting, as some of the downspouts off of the greenhouse buildings drained onto pavement or areas that couldn't fit a swale or rain garden.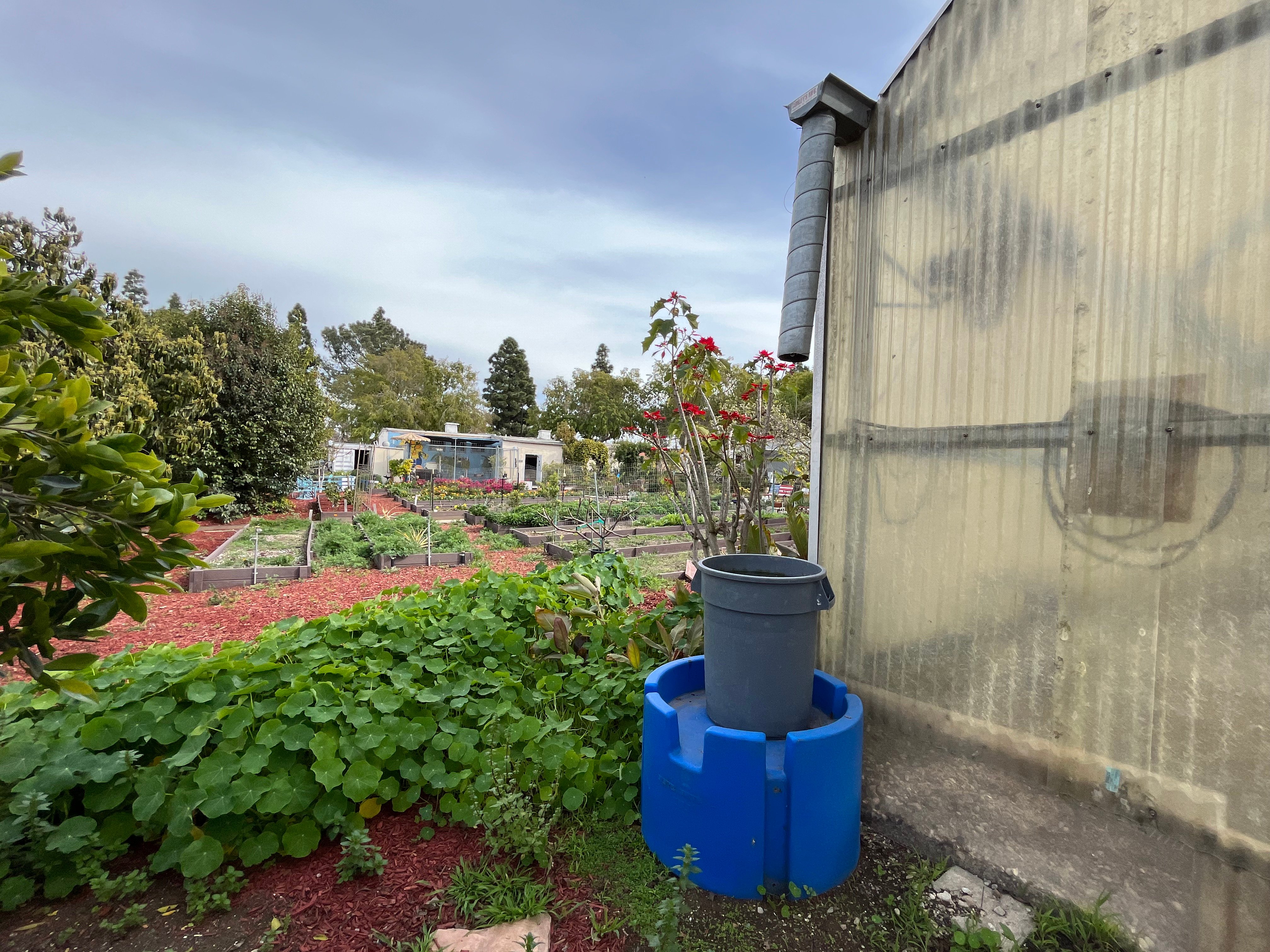 We donated six 50-gallon rain barrels to the garden to collect rainwater that can be used to water plants around the garden. The rain barrels are upcycled from barrels used to ship food items, and have mosquito netting at the top. The barrels were then connected together with PVC pipes and spouts for easy dispensing of rain water. The garden can now collect 300 gallons of rainwater while preventing stormwater pollution! The barrels can be filled and drained multiple times a year, and have been a hit with volunteers.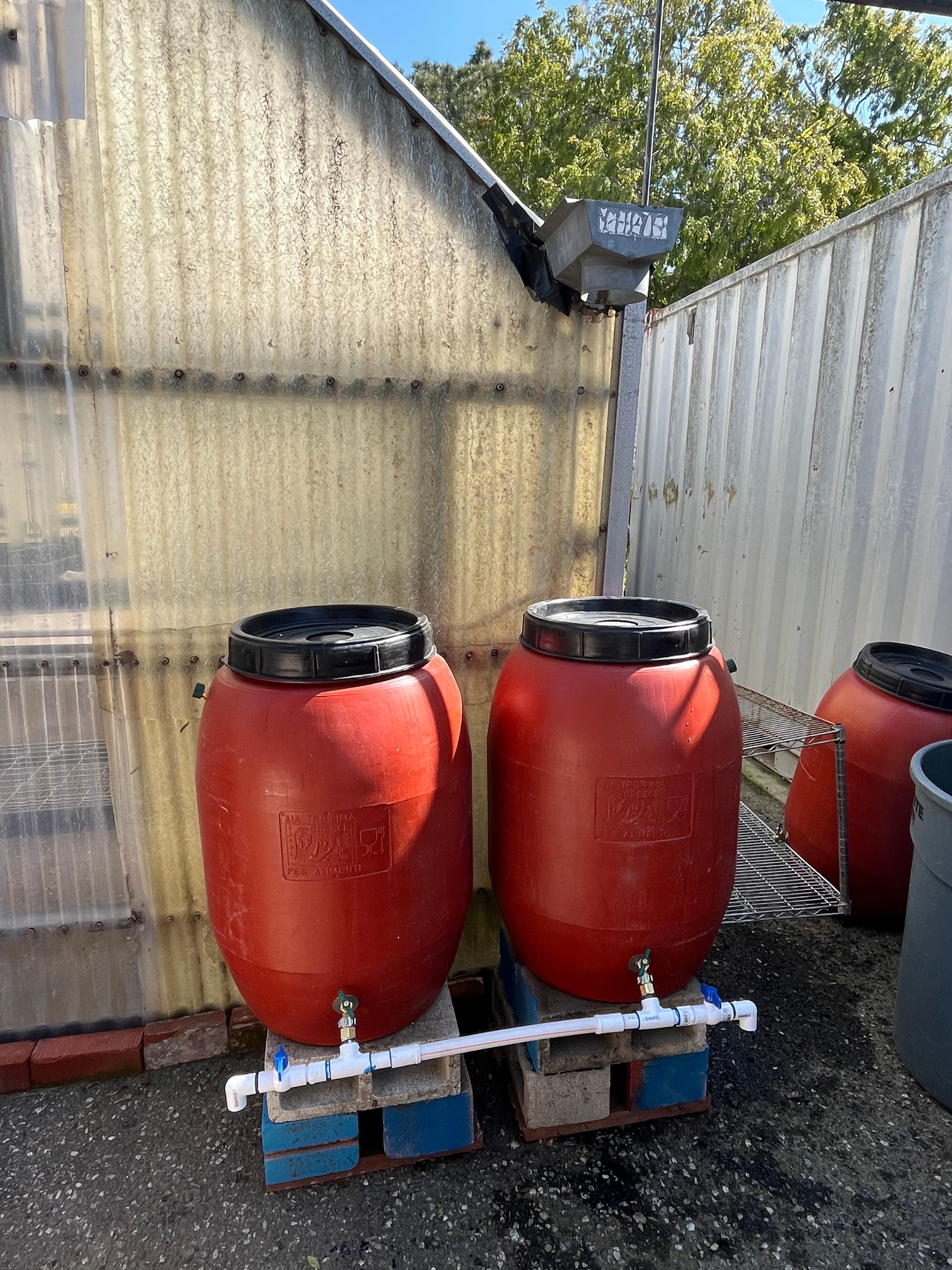 During our OFG workday, we used water from the rain barrels to water our newly planted California native plants and to soak cardboard for sheet mulching. It was great to see the barrels in action!
We started the workday with a tour of the native plants in the garden, some of the most colorful areas in bloom. We saw firsthand how these plants support local wildlife, with many bees, hoverflies, and ladybugs buzzing around. The California fuchsias (Epilobium canum) already had 4 different species of caterpillars growing on them!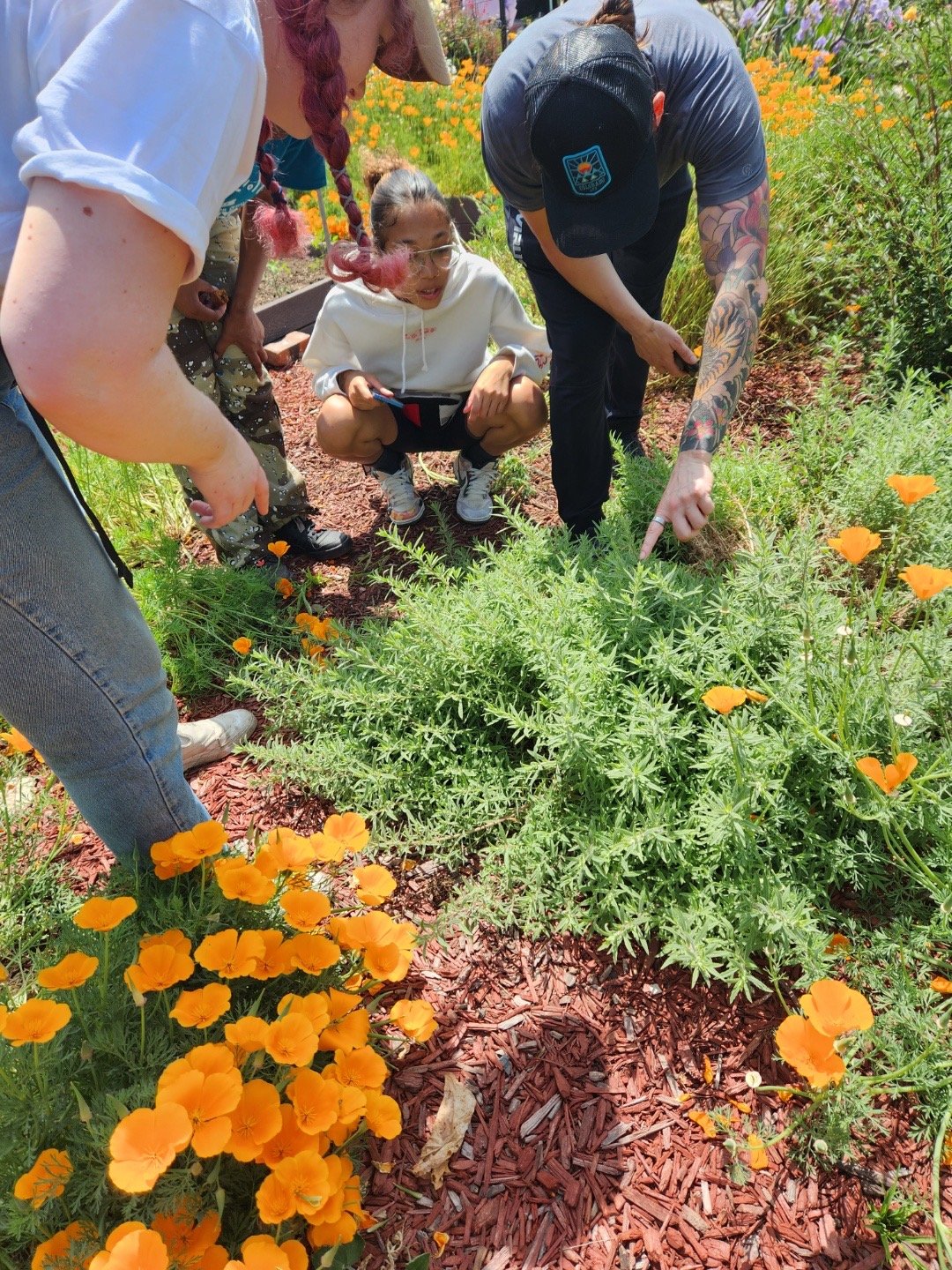 We planted lots of new California native plants, including Yarrow (Achillea millefolium), Sea Cliff Buckwheat (Eriogonum parvifolium), California Buckwheat (Eriogonum fasciculatum), Coral Bells (Heuchera maxima), and California Fuchsia (Epilobium canum).
The deep roots of California natives make them drought-tolerant and great at retaining rainwater, promoting healthy soil and preventing runoff from reaching our coasts.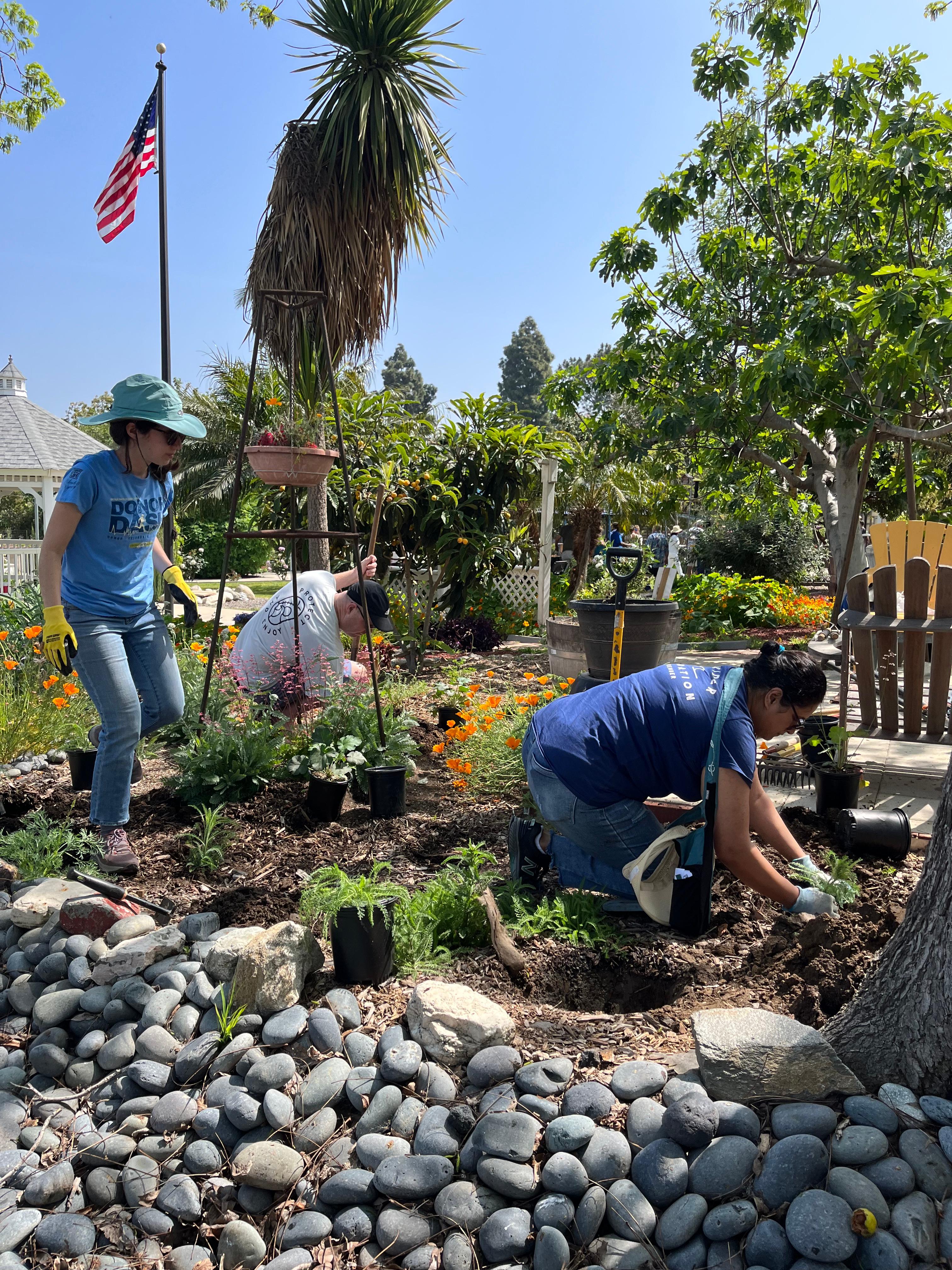 Volunteers helped weed the garden, clearing out a large area that had been covered in invasive plants. By hand weeding, we are avoiding the use of harmful chemical herbicides that impact our aquatic ecosystems!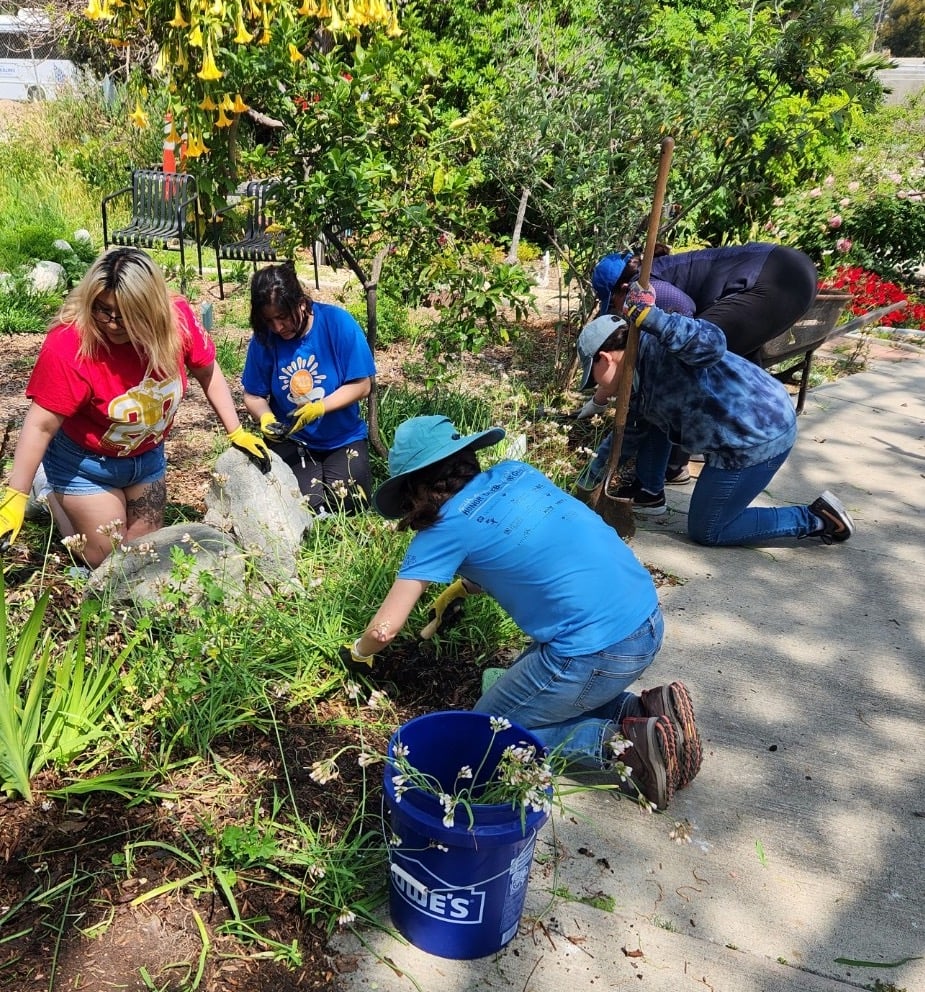 After weeding, sheets of water-soaked cardboard were laid down on top of the soil and covered in mulch, in a process called "sheet mulching" or "lasagna mulching". This process prevents weeds from growing back quickly and improves the health of the soil by retaining moisture and adding organic material as it decomposes. It is also a great alternative to plastic weed cloth or landscape fabric, and doesn't break down into microplastics that pollute our coasts.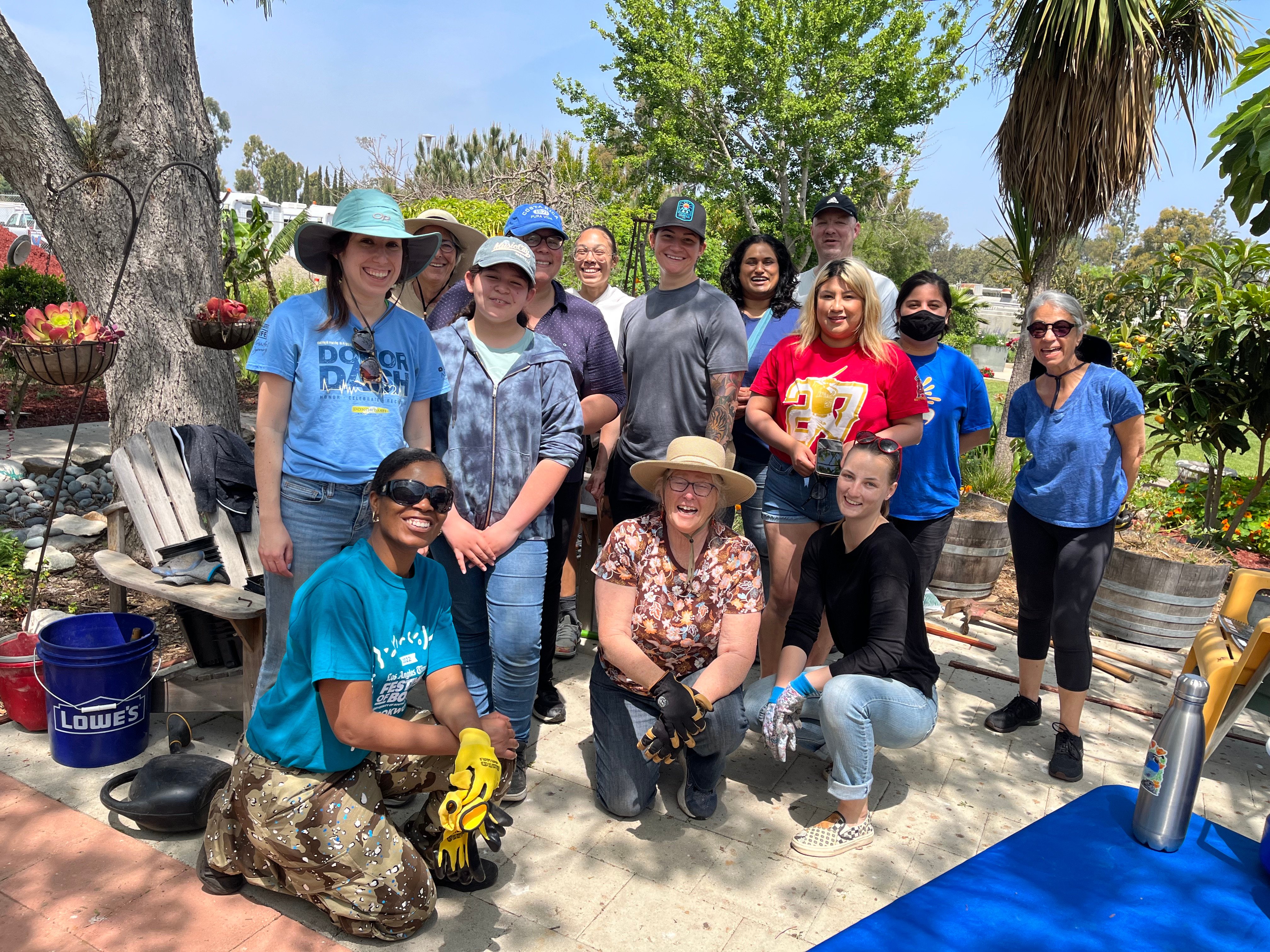 We had an awesome time at the VA Patient Garden and are happy to help make their space more ocean friendly. Don't forget to check out our event calendar to join us for the next OFG workday!