Surfrider Long Beach volunteers spent a morning revitalizing an Ocean Friendly Garden that had become overgrown with weeds. The residents had participated in a no-cost lawn removal program for low-income community members, but due to mobility limitations were not able to maintain the garden themselves. Long Beach Utilities, Long Beach Sustainability, and Surfrider volunteers all came together to weed, plant, mulch, and learn about OFGs while making a positive impact in the community!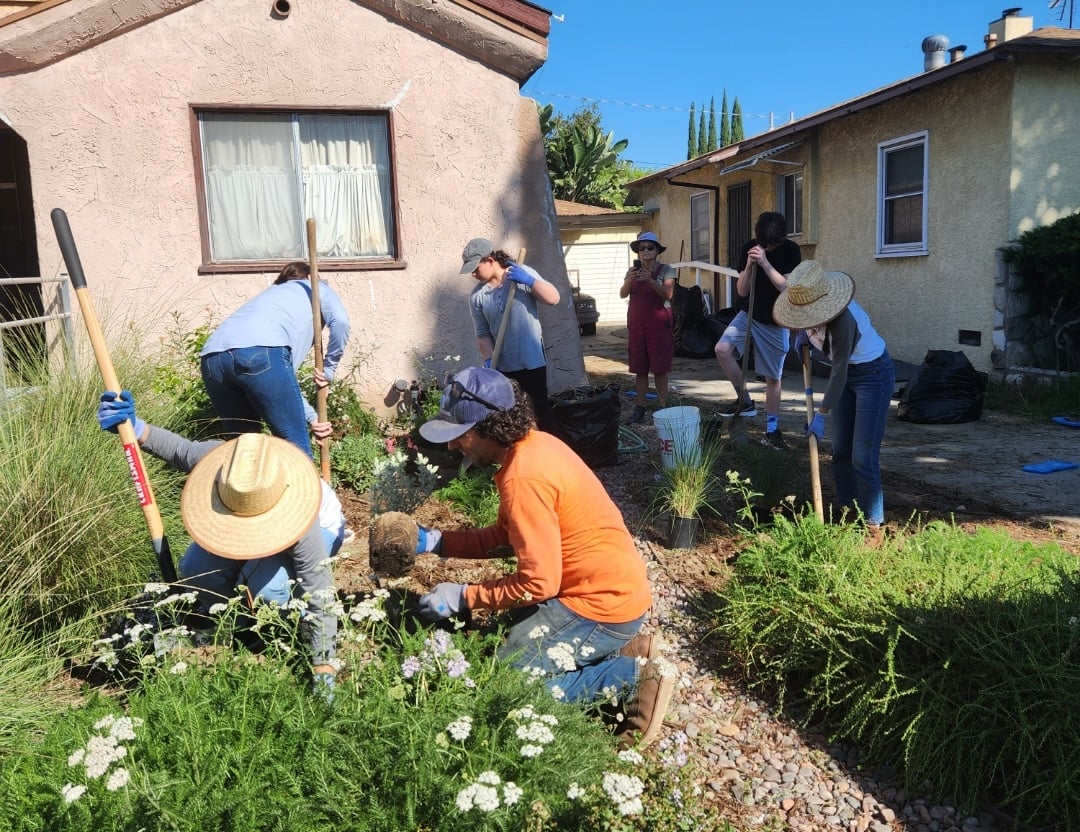 This garden was originally installed as a part of Long Beach city's DIG (Direct Install Garden) program. During the first round of the DIG program, low-income residents in a selected Long Beach neighborhood transformed their water-wasting lawns into water-conserving gardens at no cost to the homeowners. The Conservation Corps of Long Beach removed existing lawns and installed drought-tolerant plants, drip irrigation lines, and trees. While all of the garden templates had a stormwater retention element, one of the templates homeowners could choose featured lots of rainwater retaining swales and berms along with California native plants. After installation, it was up to the homeowners to maintain the gardens long-term.
Unfortunately, some of the residents were physically unable to maintain their gardens due to mobility limitations. The house we volunteered at had a wheelchair-accessible ramp in the front, as did the DIG garden next door. The homeowners paid a gardener to remove weeds, but the weeds had been chopped with a weedwhacker instead of pulled out by the roots, so they continued to vigorously spread and grow. As the homeowners were unable to tackle the weeds themselves, the garden became overgrown.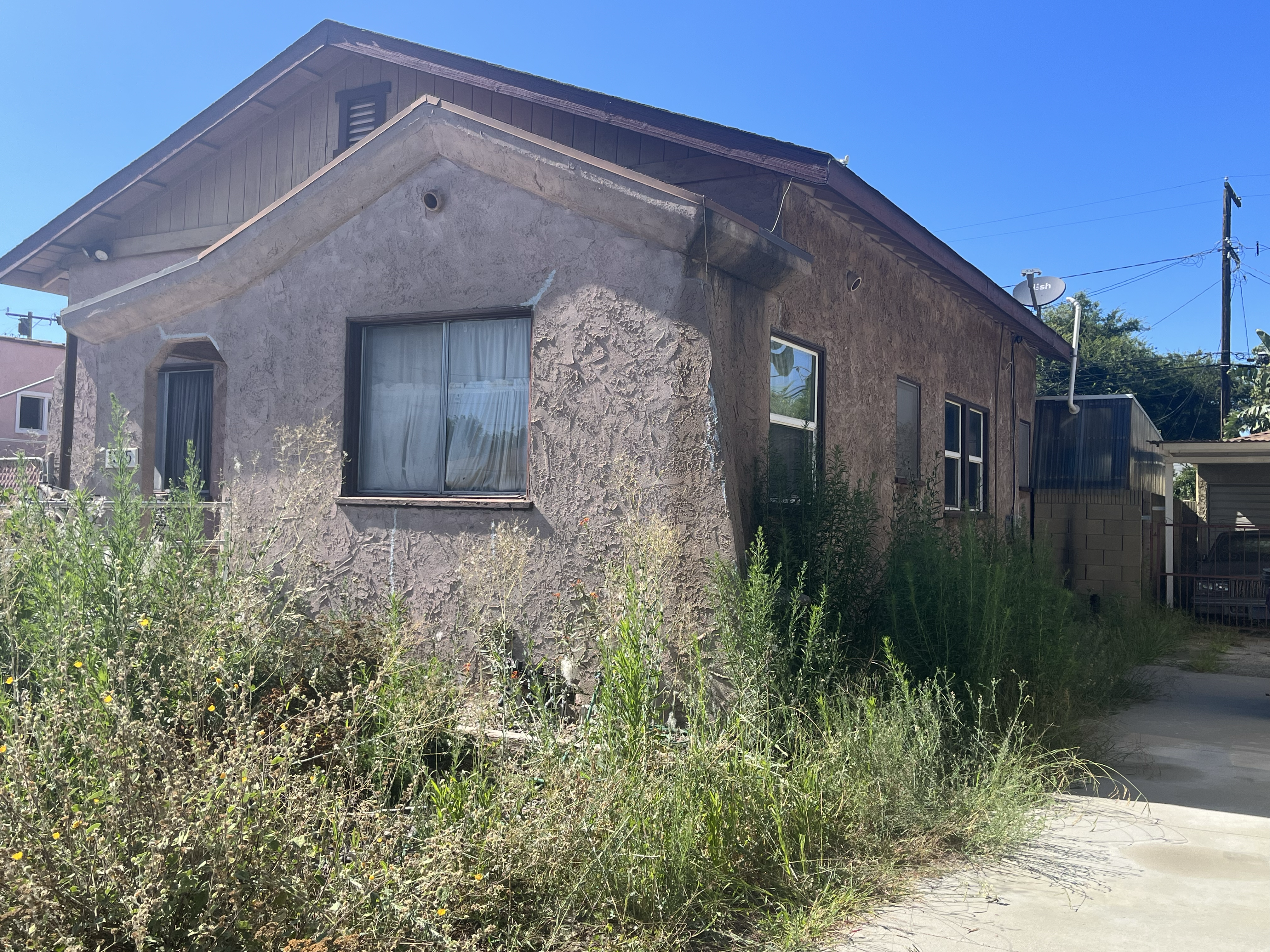 Allen Arslanian, who works for Long Beach Utilities and also volunteers with Surfrider Long Beach, had the great idea to host an OFG workday and help out the residents with mobility limitations. They had picked the rainwater retention and California native plant focused design template, and many of the plants were thriving and well established. Our OFG team worked with Long Beach Utilities and their Climate Action fellows to plan out the workday, purchase replacement plants, and get mulch and tools to the site.
Our awesome volunteers tackled the weeds, pulling them out by the roots and learning to distinguish the good plants from the bad. We admired all of the pollinators buzzing around the native purple daisies and discussed how the yard was shaped to retain rainwater. LB Utilities educated volunteers about seasonally adjusting irrigation, and how watering the right amount can help prevent unwanted weeds while conserving water. We filled the bed of a truck with all of the weeds and invasive grasses removed from the front yard!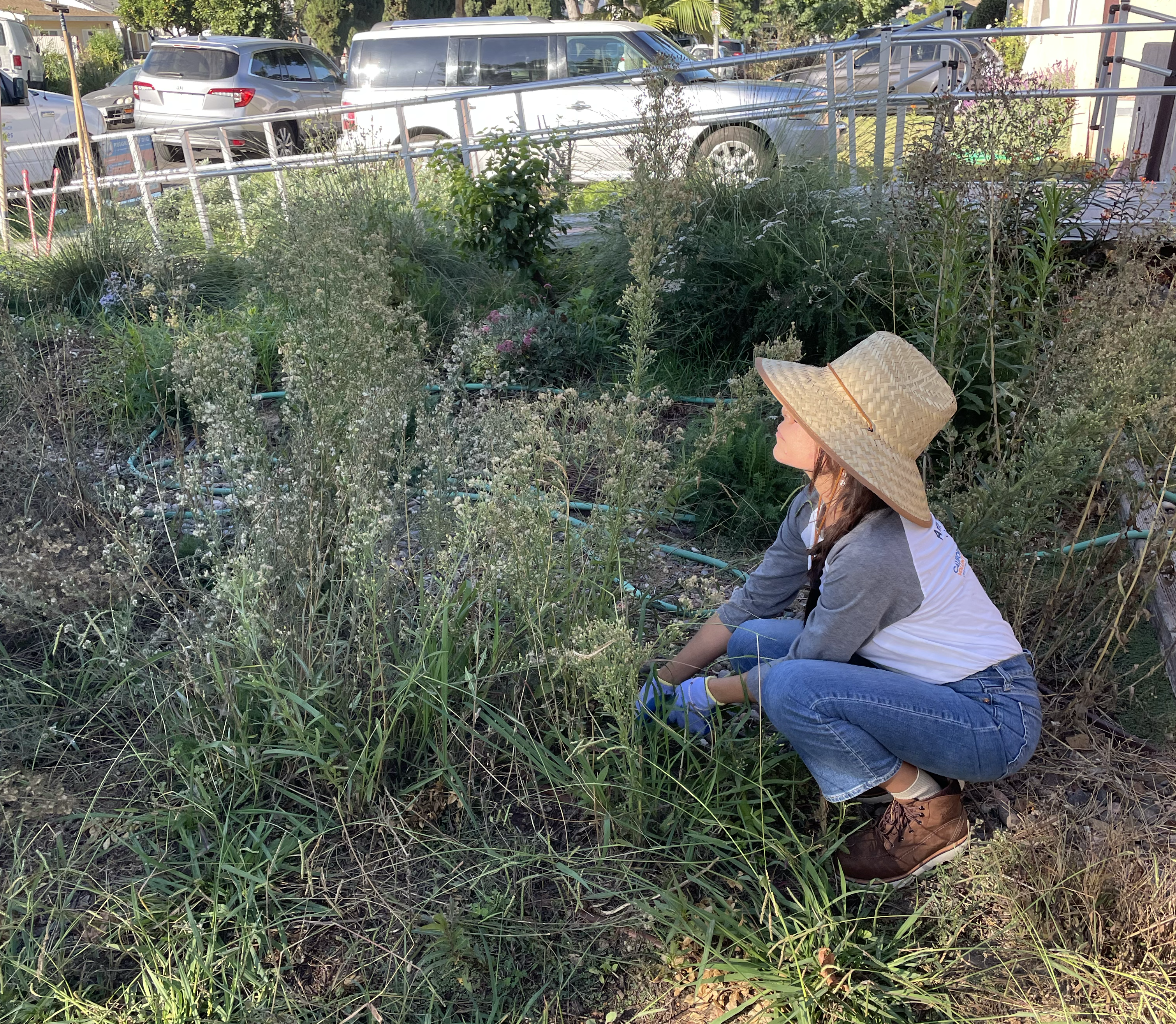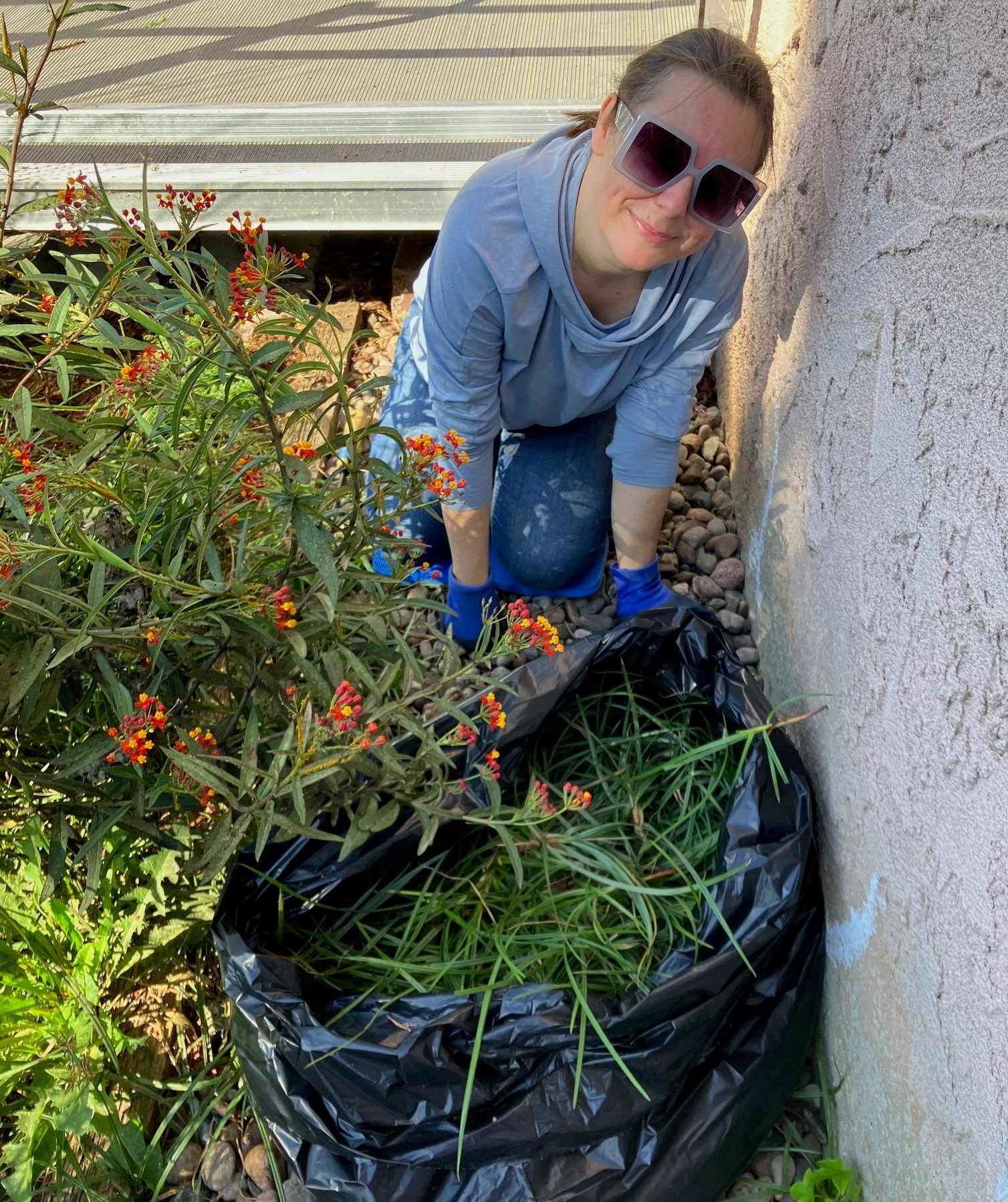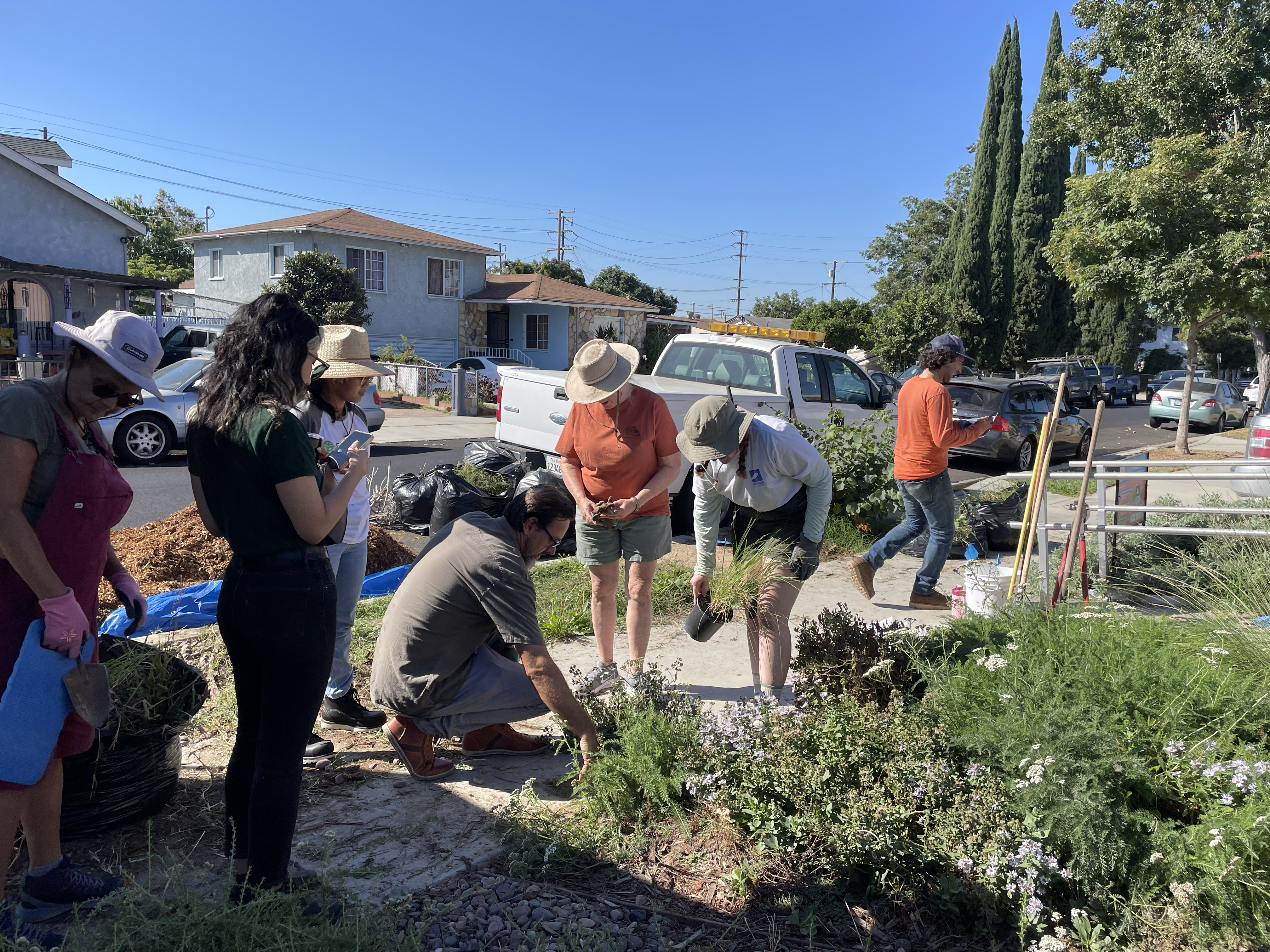 After the weeds were cleared out, we began planting to fill in some of the bare spots in the yard. Volunteers learned how to set a new plant up for success by digging the right sized hole and watering it before planting. We added 12 new plants to the yard and talked about where you can source native plants nearby in Long Beach.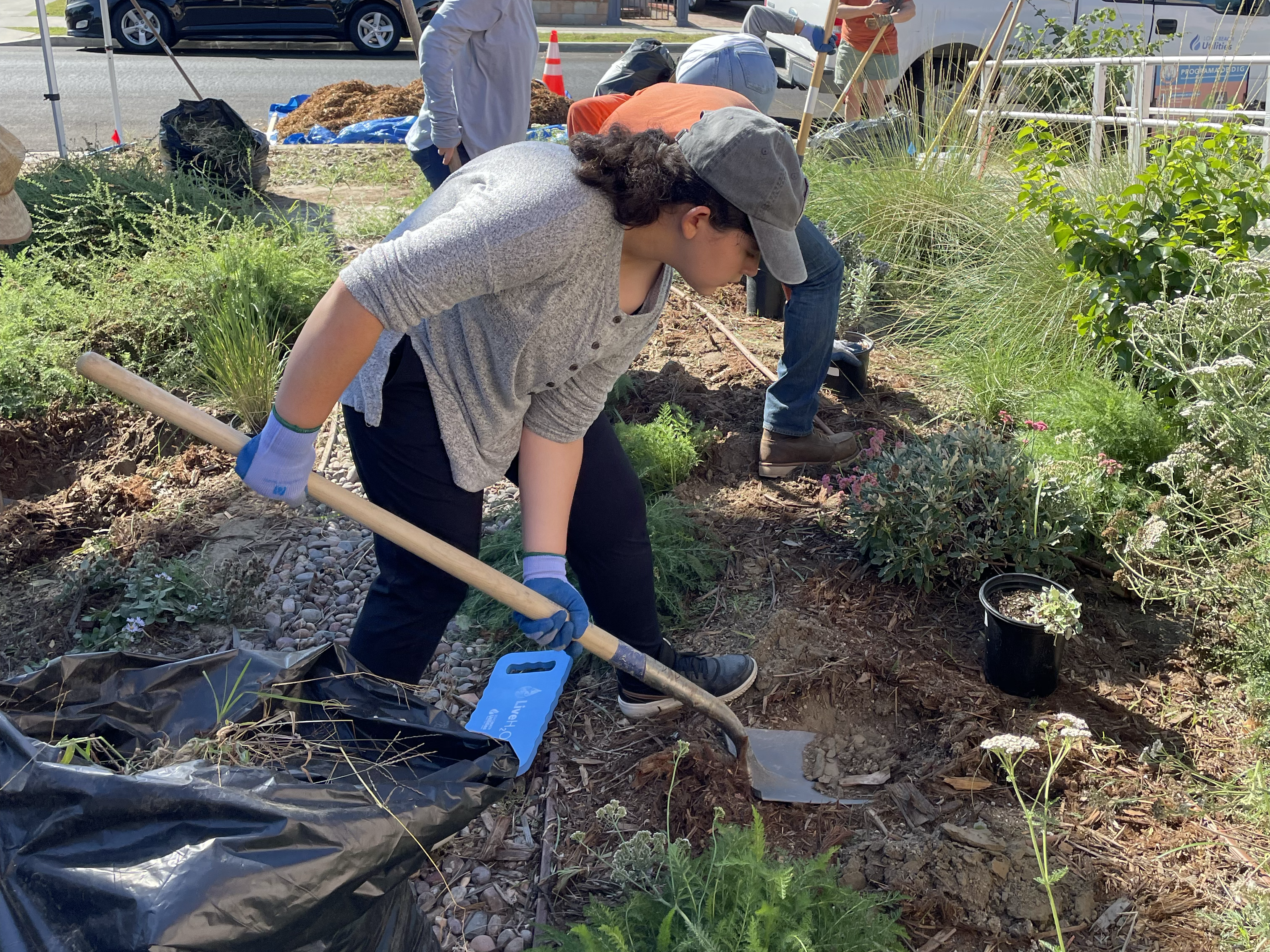 After spreading mulch and sweeping up, the house looked refreshed and renewed. We were so happy to not only help out residents with mobility limitations but also support the positive impact their yard is making as an Ocean Friendly Garden. Ocean friendly yards like theirs are retaining rainwater and filtering runoff, preventing carbon emissions from gas-powered tools, supporting local biodiversity, conserving water, and creating a more climate resilient future for us all.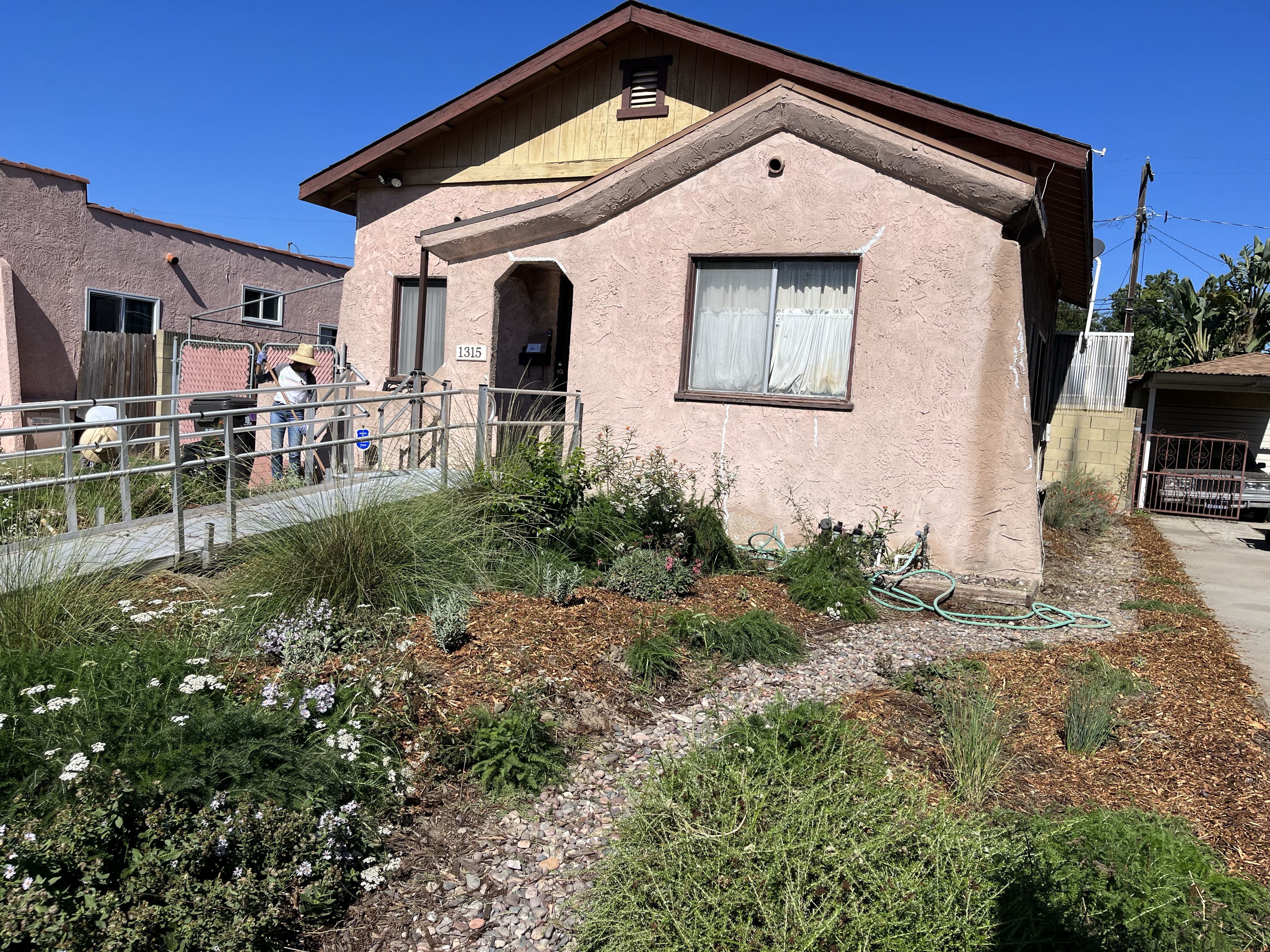 Learn more about Surfrider's Ocean Friendly Gardens program and how your own yard can support clean water and resilient communities. Like what we're doing? Come garden with us or support our chapter by becoming a member!
For Long Beach residents, the DIG program has recently restarted and is available for residents who meet the income requirements. The city's Lawn to Garden rebate program and Native Plant Parkway program are available to all qualifying residents.